by Cambridge English Language Assessment
English language exams are required worldwide by universities, immigration departments, government agencies, professional bodies and multinational companies. They can help you travel the world, win a place on a degree course, live in another country and work for international employers.
But are there any other reasons why taking exams can be good for you?
Top three reasons for taking language exams
1. Motivation
In the lead-up to an exam, students study harder than ever and see large increases in their language ability. When internationally recognised English language exams were introduced in state schools in Hebei Province, China, researchers at Cambridge English Language Assessment found that:
94% of students said that they worked harder in class due to upcoming tests
96% of students said that preparing for tests was a good source of motivation for their studies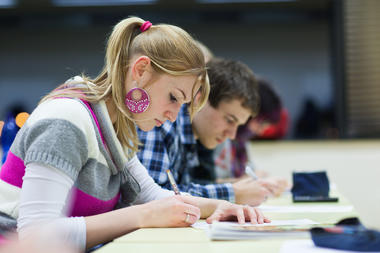 Learning a language is hugely demanding and time consuming. It's important that students feel they are making progress and keep going with their studies. An internationally recognised exam gives students an external reference point for their achievements. They can see how they are improving and use that encouragement to take their learning to the next level.
96% of students said that tests help them understand their progress
92% of teachers said that they use tests to tell students what they can do to improve further
Join an English programme at Cambridge English: First
2. Learn the right kind of language skills
Test deadlines alone are not enough. If a student thinks that an exam is pointless, they're unlikely to study harder or better.
However, English language tests that focus on real-life language, topics and situations can have a positive effect, as students will need to be exposed to authentic language and tasks as much as possible in the classroom. The researchers at Cambridge English Language Assessment found that:
93% of students preferred tests that focused on real-life communication skills by testing all four key language skills (reading, writing, listening and speaking)
94% of teachers said that their students' language ability had improved, particularly in speaking and listening, as a result of working towards such examinations.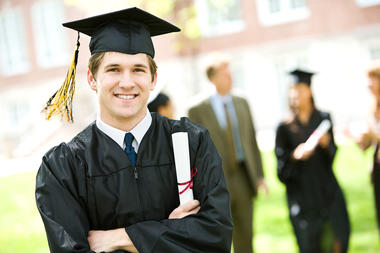 3. Succeed in your academic studies
There is a fairly consistent link between English language test scores and success in academic study, according to Rea-Dickins, Kiely and Yu from the University of Bristol, who reviewed the research in this area. One recent research study by Weir, Chan and Nakatsuhara found that reading and writing test scores explained 28% of the difference in undergraduate academic performances at a UK Business School.
Overall, fewer students underperform in their degree when English language test scores are used correctly in admissions processes, according to research by the University of Bedfordshire. Admissions staff can use test profiles to reject students with inadequate language ability, provide targeted support for students just below an acceptable level, and identify those students most likely to perform well academically.
The more assessment the better?
All too often, we only think about assessment in terms of getting certificates. We forget about the underlying value of assessment, which is to evaluate progress and encourage continued learning.
In actual fact, tests and quizzes are useful everyday study techniques that can greatly improve learning in a number of ways.
Testing helps learning to be remembered
Psychology experts Roediger, Putnam and Smith found that using tests as a study technique improves learning performance in a number of different ways.
First, the research showed that actively retrieving information, such as by taking a test, greatly increases the chances of information being remembered and makes future study sessions more productive.
Second, regularly retrieving information improves a student's ability to transfer and apply their learning to new contexts. In particular, open-ended assessments, such as essay writing, help our brains to organise information and increase the chances that learning will be remembered flexibly.
Regular testing leads to regular studying
The research also showed that regular testing leads to more studying. In controlled experiments, students with daily tests studied the longest and the most regularly; with less frequent testing, studying tended to happen only just before the test.
Many university students still don't 'get' that testing works
Despite clear evidence about the benefits of using tests as a study technique, most university students still do not use them. Given a choice between self-testing, or just doing more study, only 18% of students decided to self-test to see how much they knew and to guide further study. Guess who did better. . .
Time to rethink your study habits?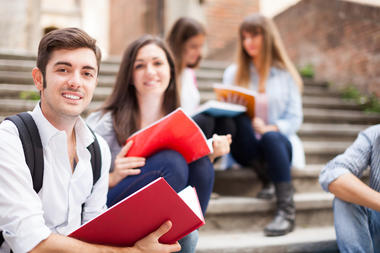 Further reading
Cambridge English Language Assessment Learning Oriented Assessment.
www.cambridgeenglish.org/research-and-validation/fitness-for-purpose/loa/
Cambridge ESOL (2012), Research Notes 50.
www.cambridgeenglish.org/images/101052-research-notes-50.pdf
Rea-Dickins, P, Kiely, R and Yu, G (2008) 'Student identity, learning and progression: The affective and academic impact of IELTS on 'successful' candidates' IELTS Research Reports 7.
www.ielts.org/pdf/vol7_report2.pdf
Roediger, HL III, Putnam, AL and Smith, MA (2011) 'Ten Benefits of Testing and their Applications to Educational Practice' Psychology of Learning and Motivation 50. http://psych.wustl.edu/memory/Roddy%20article%20PDF's/BC_Roediger%20et%20al%20(2011)_PLM.pdf
University of Bedfordshire (2014) Enhancing the international higher education experience through the clearer specification of Academic English proficiency, University of Bedfordshire. http://impact.ref.ac.uk/casestudiesapi/refservice.svc/GetCaseStudyPDF/38804
Weir, CJ, Chan, SHC, and Nakatsuhara, F (2013) Examining the Criterion-Related Validity of the GEPT Advanced Reading and Writing Tests: Comparing GEPT with IELTS and Real-Life Academic Performance, LTTC-GEPT Research Reports RG-01, Language Training and Testing Centre, Taipei, Taiwan.